Return to the project main page or see below for the Pori Art Museum exhibition.
VIEW MORE IMAGES OF THE EXHIBITION ON FLICKR Album 1 and Album 2.
NIETZSCHE WAS A MAN
VIDEO ART BY IRANIAN WOMEN
06.02. – 24.05.2015
Feb 6 – May 24. 2015
Pori Art Museum. Finland
WING, MEDIApoint
Curated by Alysse Stepanian (USA) & Neda Darzi (Iran)
Curator´s Talk: Alysse Stepanian, 4th of February 2015 at 6.30 pm, Pori Art Museum
Media Preview: 5th of February 2015 at 11.00 am
Exhibition opening: 6th of February 2015 at 6-8 pm
A catalogue has been published in connection with the exhibition.
Contributors to the catalogue: Pia Hovi-Assad (foreword); Pamela Karimi; Petteri Limnell; Alysse Stepanian
Catalogue cover and invitation design: Rasool Kamali
ABOUT:
Nietzsche Was A Man exhibition presents videos by 20 Iranian women that examine universal issues such as gender communication, prejudice and shifting identities, violence and war, and the relationship between humans, non-human animals, nature, and the environment. More here…
ARITSTS:
FERESHTEH ALAMSHAH, MOREHSHIN ALLAHYARI, MANELI AYGANI, NEDA DARZI, MOZHGAN ERFANI, SAMIRA ESKANDARFAR, CELIA ESLAMIEH SHOMAL, ROXY FARHAT, TARA GOUDARZI, SAMIRA HASHEMI, HALEH JAMALI, GELARE KHOSHGOZARAN, SHAHRZAD MALEKIAN, NOOSHIN NAFICY, AZADEH NILCHIANI, RAHA RASTIFARD, FARIDEH SHAHSAVARANI, ALYSSE STEPANIAN, PARYA VANTANKHAH, RAHELEH (MINOOSH) ZOMORODINIA
Download PDF copies of the cover story interview and exhibition review in Finnish, with English translations by Anu Lankinen, courtesy of the Pori art Museum.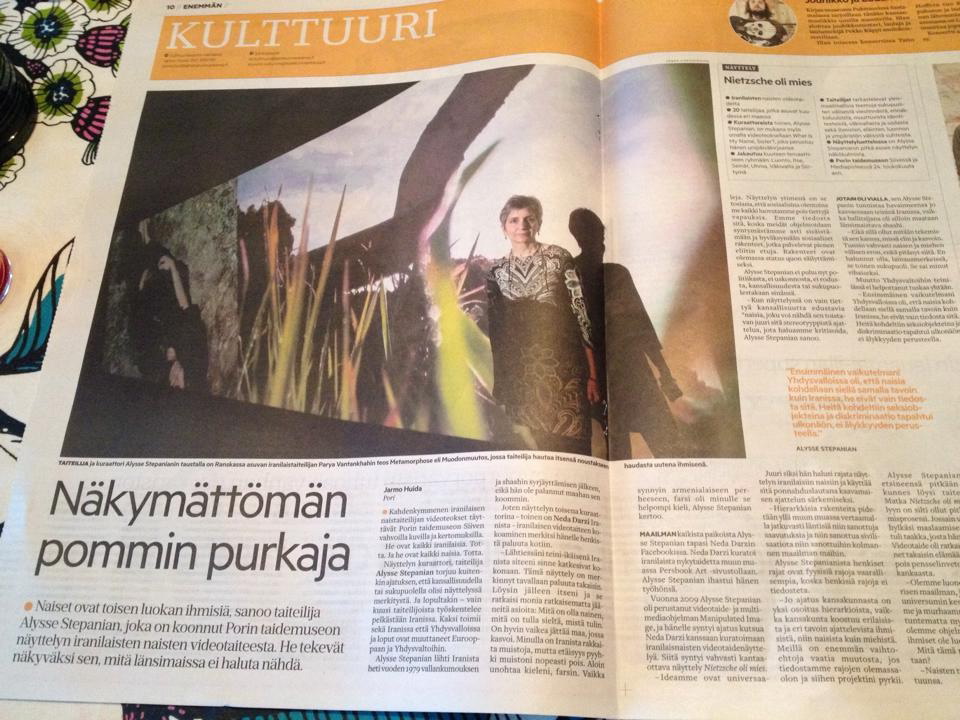 Additional information:
Pori Art Museum, Eteläranta, 28100 Pori, Finland, tel. +358-2 621 1080
Pori Art Museum, Exhibition Curator Pia Hovi-Assad tel. +358-44 701 1089 pia.hovi-assad@pori.fi
www.poriartmuseum.fi
In collaboration with: Manipulated Image, Persbook Art.
Nietzsche Was A Man has been presented at the Museo Ex Teresa Arte Actual in Mexico City (2013)), FONLAD Digital Art Festival in Portugal (2013), and Malmö Konsthall in Sweden (2014).
See more photos of the exhibition on flickr.
Download Press Release (English).
Download Press Release (Finnish).
Download Concurrent Museum Exhibitions Brochure (English and Finnish).
Download Exhibition Wall Text (English and Finnish)
MI's FB announcement.
Museum's FB announcement in Finnish.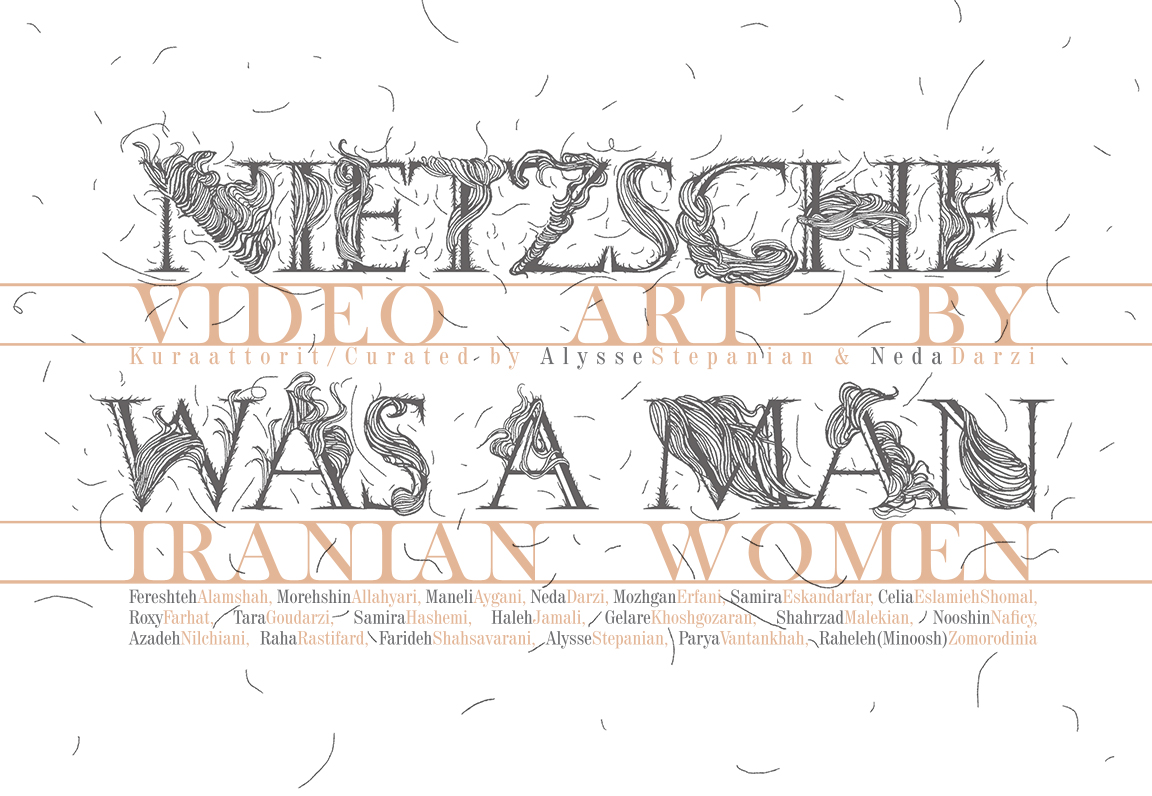 We would like to thank the Pori Art Museum for the generous support and realization of this project. We are grateful to the museum's Exhibition Curator Pia Hovi-Assad, who has understood, supported and complemented this project. Thanks to Pia for her foreword, to Petteri Limnell and Pamela Karimi for their contributions to the exhibition catalogue, and to Rasool Kamali for the catalogue cover and invitation designs. Thanks to those who have made this exhibition possible, including the museum Director Esko Nummelin, Exhibition Technicians Henri Smura and Kati Kunnas-Holmström, Audio/Video technicians Erkki Valli-Jaakola and Jarkko Montonen (Porin Videotuki), Museum Educators Mirja Ramstedt-Salonen and Anni Venäläinen.