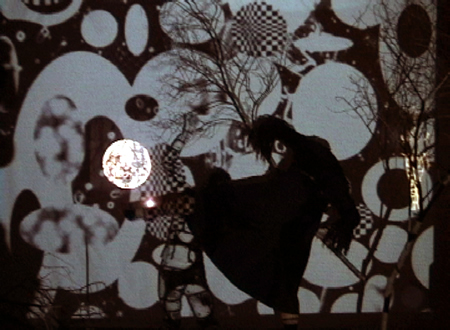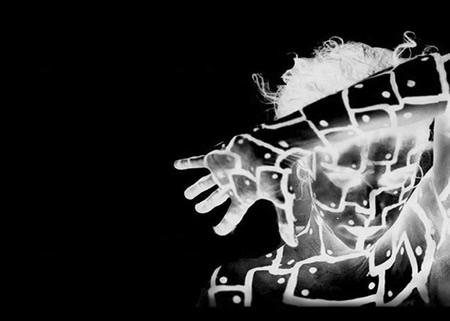 "Fear of the Saveloy Moon"
2007; 6:27 min, color and blk/white, sound
Christine Schiavo (Brooklyn New York)

BIO
Christine Schiavo is a multi-media artist born and based in New York City. She works in Film, Photography, Installation art, Drawing and Sound, often incorporating all mediums simultaneously to create experimental films, theater and performance art. She is a founding member and the Visual Director of the Collective Opera Company based in NYC (http://collectiveopera.com). Her work is in the collections of the Museum of Modern Art/ NY, and the Metropolitan Museum of Art/ NY, and is shown in galleries and film festivals internationally. She is currently working on a silent cinematic fable called " RIVETGIRL: a cinematic fable in 12 chapters ", which premiered its first two chapters at the Museum of Modern Art, NYC, and a subsequent chapter at MOMA NY, " POP RALLY ".

AWARDS: New York Foundation of the Arts for Architecture and Environmental Installation; New York State Council of the Arts for Experimental Film; BCAT award for multi-media art, Puffin Photography award.
RESIDENCIES: MacDowell Artist Colony, Yaddo Corporation, Braziers, Saltonstall Foundation, Millay Colony, VCCA, UCross Foundation, Marie Walsh Sharpe Foundation.
STATEMENT
"Fear of the Saveloy Moon" is one of twelve chapters of the cinematic Fable titled "Rivetgirl." It follows the journeys of a Chaplin-esque female figure in search of a meaning and identity in a super-real world. In this chapter, the ' Rivetgirl ' seems to trapped in a hypnotic, recurring dream - where images appear then quickly re-invent themselves and mysterious actions echo throughout. It is at once magical and menacing. An undercurrent of beauty and tension weaves a false sense of security in a open-ended realm suspense.
"Fear of the Saveloy Moon" is a mostly improvised scenario made from layers of video and still images projected onto live actors and translucent sets, and uses props and shadow play. After filming one hour of video, the tape is placed into a malfunctioning video camera and uploaded to a computer. Because of the malfunction, the footage when up-loaded, automatically and randomly 're-edits ' itself in a different way each time. "Fear of the Saveloy Moon " is one version. In this version, the music chosen is both soothing and menacing and absolutely defines what the end video will feel like.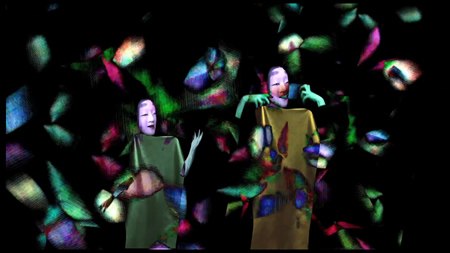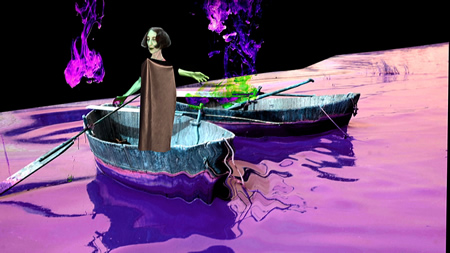 LYRICS (No More Worry No More Blue ©1994 G. Boyer):

1 If I could take you swimmin
on the endless sea
I'd hold the tide to let you walk by
over to Italy

2 If I could dream a million
dreams in just one night
I'd forget them all with one wave of your paw
if that would serve you right.

3 Take me to your garden
Plant me in the bed
I'd grow food from me constantly
To see that you're well fed.

4 If I could take a liberty
on the other shore
I'd make an excuse to turn me loose
Run your errands to the corner store.
Kathy Rose (Philadelphia,USA)

BIO
Kathy Rose's work has evolved from pioneering performance work combining dance with film to current surreal performance video spectacles. Her numerous appearances include the Museum of Modern, Serious Fun at Lincoln Center, Fondation Cartier pour l'art Contemporain, the Walker Art Center ,The Kitchen, Institute of Contemporary Art in London, Akademie der Kunst/Berlin, etc. Recent videos have been exhibited at :Dance on Camera/Lincoln Center, American Dance Festival, DANCE/VIDEO FESTIVAl/, Edinburgh, Sans Souci Festival of Dance Cinema, InShadow –Festival of Video, Performance and Technology – Lisbon, Il Correografica-Electronica/Naples, etc. Rose showed 6 videos at the Centre Pompidou on October 2011 in festival program A Shaded View on Fashion and Film.

"Opium Den/Fade to Blue"
2013, 6:25 min, color, sound, 16:9, NTSC
Video artist: Kathy Rose
Music video for Blues Control
STATEMENT
It was really a pleasure to work with Blues Control while I created this video, they were so open and artistically sensitive. I was really sorry to finish the piece and see the music leave, it and I got very close during this process. In the first scene I was somewhat inspired by the paintings of surrealist artist Remedios Varo. Working on this piece was a beautiful ride down a picturesque canal, in which I followed the music, or it followed me.
"No More Worry, No More Blue"
2013, 3:40 min, color, sound, 16:9, NTSC
Video artist: Kathy Rose
Music video for Greg Boyer
STATEMENT
A surreal video interpreting Greg Boyer's beautiful ballad. Lyrics and images were often one step from one another to create a more dimensional poetry.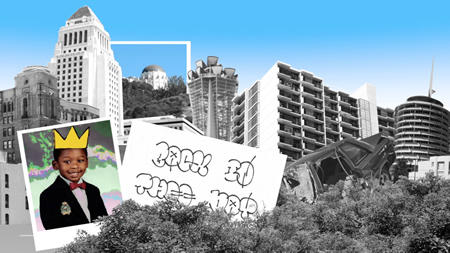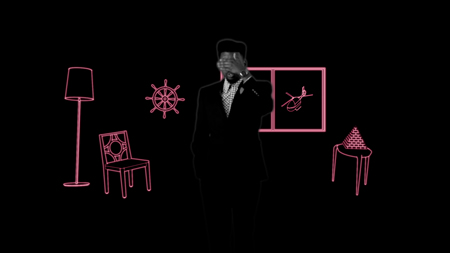 Joe Merrell (Los Angeles)


BIO:
Joe Merrell was born in Seattle and grew up in Olympia, Washington. He studied philosophy and history at the Evergreen State College in Olympia and later received his Master's Degree in film from CalArts in Valencia, California. He currently lives in Los Angeles where he makes various sorts of media art (videos, installations, stills) for exhibition in galleries, festivals and museums.
STATEMENT:
The animated videos for "Art of Stuntin" and "People Ago" were inspired primarily by the eclectic style and lyrical content of Def Sound's music. The visuals for "Art of Stuntin" were drawn from vector-based video games and old computer graphics. "People Ago" was influenced in part by the collage work of artists like Terry Gilliam and Peter Blake.


"People Ago (Lyric Video)"
2013, 4:10 min, color, sound, 16:9, NTSC

"Art of Stuntin"
2012, 2:48 min, color, sound, 16:9, NTSC

music: Def Sound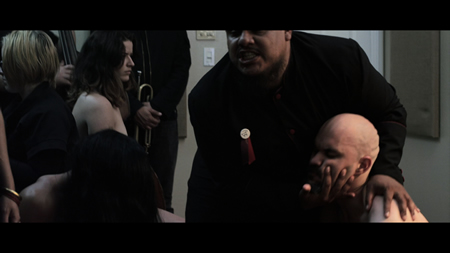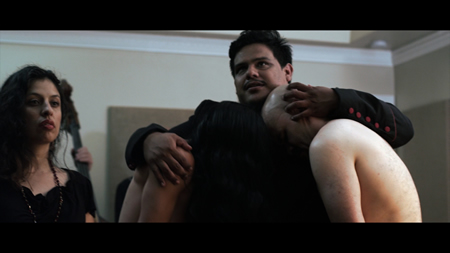 STATEMENT
Read interview here…

Written, composed and arranged by Dorian Wood
Copyright 2013 Why Are You Doing This Music (ASCAP)
From Dorian Wood's new album Rattle Rattle
Directed by Dorian Wood/Presented by L.A. RECORD
Cinematographer: Ani Vartivarian
Lighting: Armen Poghosyan
Assistance: Zoe-Ruth Erwin and Ali Nikou
Art Direction: Dorian Wood
Editing: Lars
Performers:
Dorian Wood
Eddika Organista
Michael Corwin
princessFrank
Sebastian Steinberg
Leah Harmon
Daniel Rosenboom
Kari Svendsboe
Taryn Piana
Brian Cuojoe Tolbert
Moosaj Karmatron
Special guest appearance by Margaret Cho
Filmed at Blaster Master Productions: blastermasterproductions.com
Public Relations: Pazos Media: pazosmedia.com
Presented by L.A. Record: larecord.com
Special thanks to Van Maximilian Carlson
Dorian Wood (Los Angeles)

"La Cara Infinita"
2013, 3:09 min, color, sound
FOR MATURE AUDIENCE
BIO
Los Angeles-based artist DORIAN WOOD is "armed with a vocal charisma that would befit a preacher and an experimental streak that would make avant-gardists swoon" (WNYC Culture). A wunderkind with a headstrong DIY discipline, Dorian has brought his emotionally-charged performances to concert halls, museums, music venues and performance spaces throughout the US, Mexico and Europe, with a voice that channels the skill and ferocity of such auteurs as Scott Walker, Nina Simone, Nick Cave and Tom Waits.
​Born in Echo Park, California, Dorian began his musical education at a very early age, continuing his studies at Conservatorio de Castella in Costa Rica, and eventually making his way back to Los Angeles, where he first gained exposure performing on the queer bar circuit. His debut album, BOLKA, received wide critical acclaim for its impeccable merging of folk, soul, Bulgarian choral music and experimental music. His follow-up EP, Black Pig Suite, featured members of the L.A. experimental orchestra Killsonic, of which Dorian was a principal collaborator and performer for 3 years.
​In 2010, Dorian received critical praise for his performance and "picture perfect" art direction (Los Angeles Times) in the Killsonic opera, Tongues Bloody Tongues, presented at the REDCAT in Los Angeles. Dorian performed at the REDCAT again in 2011 in the opera Zoophilic Follies, along with Timur and The Dime Museum. 2010 also saw the release of the album Brutus, which featured only Dorian on vocal and piano, and was recorded live at St. Giles-in-the-Fields, a church in London, in the midst of his European tour.
​In 2011, Dorian was commissioned by LACE (Los Angeles Contemporary Exhibitions) to present a new work for the performance series Los Angeles Goes Live, part of Pacific Standard Time. Dorian's performance installation, Athco, Or The Renaissance of Faggot Tree, incorporated over 30 performers, and was presented at Barnsdall Art Park. Dorian also performed with acclaimed artist Marina Abramovic in her piece An Artist's Life Manifesto, presented at the Museum of Contemporary Art (MOCA).
​Dorian has also performed at LACMA, UCLA, Highways Performance Space (Santa Monica), Pacific Design Center (West Hollywood), The Stone (New York City), Yerba Buena Center for the Arts (San Francisco) and the Stockholm Fringe Fest (Sweden), and he has opened for such artists as Tom Brosseau, Lisa Germano, Little Annie, Baby Dee and Jason Webley, to name a few.
Dorian's latest album, Rattle Rattle, is the official studio follow-up to BOLKA. An epic collection of original doomsday-themed songs that form one strong, continuous piece (think Scott Walker re-doing Brian Wilson's Smile), Rattle Rattle incorporates over 60 musicians, including a 45-member choir assembled by Dorian himself, The Difficult Women, as well as guitarist Michael Corwin (Correatown), bassist Sebastian Steinberg (Soul Coughing, Fiona Apple), trumpetist Daniel Rosenboom (Josh Groban) and members of Killsonic, and featuring duets with Angela Correa (Correatown, Les Shelleys), Leah Harmon (Petrojvic Blasting Company), Eddika Organista (El Haru Kuroi) and renowned French artist Nina Savary. Most recently, Dorian directed the video for his song "La Cara Infinita", which features a guest appearance by actor Margaret Cho.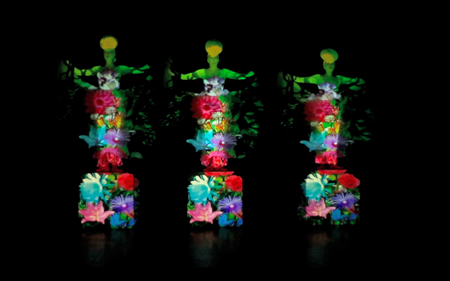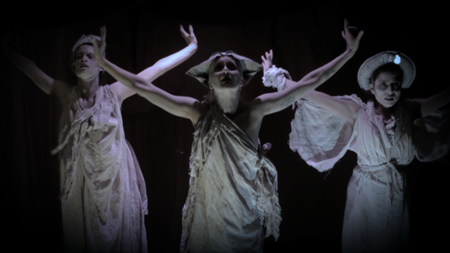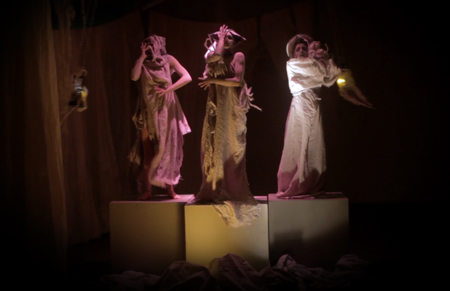 WIFE (Jasmine Albuquerque, Kristen Leahy, Nina McNeely)
(Los Angeles)

BIO
WIFE, A Trinity of Illusory Performance Makers, is an all sensory theatrical experience born of three Los Angeles based artists, Jasmine Albuquerque, Kristen Leahy, and Nina McNeely. Her creations combine surrealist animations via projection mapping, sculpture, original music and costumes, using movement and dance as the vehicle for storytelling. WIFE harnesses old and new technology (magic) to illuminate enduring mystical phenomena and ancient archetypes that resonate throughout humankind's collective unconscious. She is as a magician of picture and light, of movement and sound, reflecting rescued dreams and the subtleties of human behavior. She is the daughter, sister, and mother of all people set apart. She has been seen at Honor Fraser Gallery, Los Angeles Contemporary Exhibitions (LACE), Human Resources, Forum Lounge at Santa Barbara Contemporary Arts Forum, Mack Sennett Studios, Dripped Fashion Show, Pieter, The El Portal Theatre, and the Bootleg Dance Festival 2011. WIFE's "The Grey Ones" was presented at the Long Beach TEDx SoCal event, and is also featured on the electronic music artist Amon Tobin's box set DVD. WIFE was awarded the ARC grant from the Center for Cultural Innovation in the fourth quarter of 2011. Abaddon, WIFE's full-length dance/projection theater piece, was featured in Native Strategies, a biannual journal and platform for performance art in Los Angeles. Most recently, WIFE was commissioned by Ford, Milk + Legs to create new work for an immersive gallery experience in NYC and LA that showcased five multimedia artists.

"The Grey Ones"
2011, 6:31 min, color, sound, 16:9, NTSC
Choreography + Concept: WIFE
Featured Dancers: WIFE - Jasmine Albuquerque, Kristen Leahy, Nina McNeely
Animated Projections: Nina McNeely
Assistant Choreographer: Zak Ryan Schlegel
Tech Director: Quin Cabalquinto
Costumes: Lyndsay LaMarr, Seth Pratt
Music: Amon Tobin
STATEMENT
WIFE premiered The Grey Ones at TEDx SoCal in Long Beach in July 2011, and it is also featured on Amon Tobin's 2012 DVD Box Set. Inspired by ancient myth, organic matter, decay, and transcendence, The Grey Ones explores the use of projection mapping on moving bodies and statuesque and saintly gestures to tell a story of the beginning of time.

"Statuettes"
2011, 5:20 min, color, sound, 16:9, NTSC
Choreography + Concept: WIFE
Featured Dancers: Denna Thomsen, Justine Clark, Reshma Gajjar
Tech Director: Quin Cabalquinto
Costumes: Cathy Cooper
Composer: Robbie Williamson
Sculpture Design/Creation: Derek Michael
Videographers: Marcel Wepper, Natan Moss
Video Editor: Nina McNeely
STATEMENT
WIFE premiered Statuettes at their full-length performance Abaddon in Boyle Heights in February 2012. It has also been presented at Honor Fraser Gallery, Forum Lounge at Santa Barbara Contemporary Arts Forum, and the Grand Opening of Mack Sennett Studios. Statuettes is inspired by clockwork, stolen innocence and the final step in completing "the seal." WIFE recreated the magic lantern effect through the use of a life-sized motorized light structure. Statuettes investigates the experience of three souls trapped as human statues, bound to a surreal underworld where time does not exist.